How it works
Book a gardening landscaper today to mow your lawn
Match
Type in your postcode to list of all our lawn mowing contractors near you
Book
Schedule a date and time for your lawn mowing service. You'll then receive a quote in no-time.
Service
Our contractors will provide your lawn with some much-needed TLC.
Pay
Once satisfied with your luscious, healthy yard, we'll process your payment electronically.
Get a Quote for our Lawn Mowing Services Now!
We offer lawn care and maintenance in Darwin that does not break the bank. The costs will be the least of your worries. We guarantee quality services that are worth your money. Contact us now to get a free estimate. No commitment necessary.
Our Darwin Lawn Mowing Services Include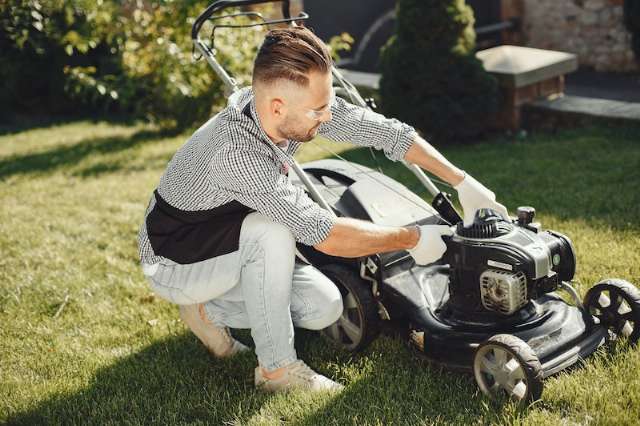 Latest Lawn Mowing bookings from our clients
Small house
2 bedrooms and bathroom that need to be cleaned on a weekly basis. Surfaces need dusting and wiping.
Service: Regular Cleaning
Small house
3 bedrooms, 2 living areas and 2 bathrooms to be cleaned every 2 weeks. I would also like the windows cleaned on a quarterly basis.
Service: Regular Cleaning + Window Cleaning (Quarterly)
Small house
I am looking for a one-off deep clean of my 4 bedroom house in preparation for a party.
Service: One-Off Deep Cleaning
1500+
Unique properties cleaned
300+
Average job duration
Why Book A Professional Mower for Your Lawn in Darwin?
Darwin, being the beautiful tropical capital of the Northern Territory, is a city in touch with nature. Majority of residential spaces have their own lawns. After all, a fresh-cut lawn gives your home a refreshing and clean look, accentuating its bright features in this sun-kissed city. 
A well-maintained lawn reflects a cared-for home. More than just aesthetics, lawn care is also about taking care of nature. Knowledge of grass and soil types is essential. Different climate factors also affect the growth of your lawn. Mowing your lawn keeps your grass healthy as it strengthens its resistance to weeds and other damaging elements. Pests may also affect your lawn and even be detrimental to your own health. 
The right tools and products are needed to make sure your lawn is the best it can be. And this is an expensive investment. Lawn mowers are not cheap and maintaining them is even more expensive. You'll have to think about the gas or electricity needed to run it too. 
But, at Sidepost, we'll have everything ready for just a fraction of the costs. Our lawn care professionals are equipped to handle any problem your lawn may have.
With that said, the benefits of hiring professional lawn mowing services are immeasurable. Aside from having a beautiful and fresh-looking lawn, you'll have more time on your hands. After all, winter doesn't touch Darwin, so soak up all that wonderful tropical sunshine. You should be enjoying your free time, not spending it fussing over your lawn. Head over to the Mindil Beach Sunset Markets for a bite or a drink, and let us handle the work.
Read what our customers have to say about our work
Outstanding service
They came on the premises and did a fantastic job of mowing my lawns. I was really impressed by their level of professionalism and attention to detail. My garden looks better than ever, and I would definitely recommend their services to others.
Very friendly and informative staff
Besides mowing my lawn to perfection, they also took the time to explain to me what type of grass I have and how to best take care of it. I'm now a lot more confident in my gardening skills, and my lawn has never looked better.
Great job!
I was blown away by the results. Not only was my lawn mowed and edged perfectly, but they also did a great job of blowing all the leaves off my driveway. I will definitely be using their services again.
Mowing and maintenance done right
These guys know their stuff. They did an amazing job of mowing and maintaining my lawn, and I couldn't be happier with the results. My lawn has never looked so good.
Cheap mowing service
The service was exemplary, but what really won me over was the price. I was expecting to pay a lot more, but they were very reasonably priced. Affordable and competent - a winning combo! 5 out of 5
Sidepost Lawn Mowing Darwin Office Details and Coverage Area
Postal Code Coverage:
800,
812,
810,
830,
841,
828,
840,
820,
829,
822,
832,
Areas we cover within the city:
Darwin City,
Karama,
Leanyer,
Rosebery,
Stuart Park,
Nightcliff,
Larrakeyah,
Durack,
Gray,
Rapid Creek,
Woodroffe,
Bakewell,
Coconut Grove,
Malak
and the whole of Darwin area
Other locations we cover nearby Darwin:
Most Popular locations:
Frequently Asked Questions
Q: Why does my garden have brown spots?
A: Brown spots may appear due to various issues, including overwatering, dry areas, mower tracks, and even pet damage. After identifying the cause, our professionals can address the brown spots and eliminate them.
Q: What if I don't require your lawn mowing service for one week?
A: If you need to cancel your lawn mowing service, you can login to your account and cancel it. Alternatively, you can also contact us via phone to reschedule your booking. You're in full control!
Q: Do I need to be at home when you mow my lawn?
A: Not at all. At Sidepost, we want to give you as much convenience as possible. Therefore, you can easily go to work, pick your kids up from school, or catch a quick lunch with friends while we'll take care of your lawn.
Q: Will you throw out the rubbish?
A: Yes, our basic lawn mowing service includes collecting the rubbish and other debris during the job. You don't have to lift a finger!
Q: How often do you need to mow lawns?
A: To best maintain your lawn, try to mow your lawn once a week at no more than 20mm, which is usually setting 2 on your device. However, some lawns take longer to grow and require mowing every 10 days to 2 weeks. We recommend not to cut off more than a third of your grass's blade when mowing.
Q: Why is my grass dying after mowing?
A: When lawn clippings are left on your lawn after mowing, it eventually turns brown and blocks out sunlight from reaching the grass. This will cause your grass to die. To avoid this, our professionals make sure to rake up any clippings after mowing.
Q: Do you also pull the weeds when you mow the lawn?
A: We don't have weed pulling in our basic lawn mowing plan. If you require additional services, contact us, and we can provide you with a customised quote.
Q: What if it's a rainy day on my mowing day?
A: We will reschedule your lawn mowing service for the next clear day. This is to ensure our service quality and avoid damaging your lawn.
Q: Why choose Sidepost for lawn mowing?
A: Sidepost is a trusted name for lawn mowing and other home services. We have a team of highly skilled and experienced professionals who are carefully selected to provide the best service possible. Moreover, we only use high-quality equipment and products to ensure your lawn is mowed to perfection. Plus, our affordable prices and flexible scheduling make us the obvious choice for lawn mowing in Australia. So why wait? Contact us today!
See all questions