How it works
Book a building inspection in 4 steps
Match
Input your postcode and match with a pre purchase building inspector near you
Book
Schedule your pre purchase inspection for a time that's convenient for you
Service
Our qualified building inspector will check for any major structural defects and include it in your building report
Pay
Receive a detailed report with digital photos and pay through our secure online platform
Why you need a pre purchase inspection for your next home
Sidepost intends to provide confidence and peace of mind to buyers wishing to purchase their new Australian home. A pre purchase inspection with Sidepost is an all-inclusive service that covers structural elements, roofing, electrical, and other defects to uncover any hidden property damage. This, in turn, allows you to make a confident and informed decision about your purchase.
Our pre purchase building inspectors never miss a beat. With a house inspection checklist in hand, they'll cover all the angles of the property – from testing electrical installations and smoke alarms to examining the roof and guttering. It's our job to identify any unauthorized building work that doesn't comply with the Australian Building Code, ensuring it adheres with all safety regulations.
In short, we make sure that your new home is up to scratch before you make such a huge investment.
Quick turnaround times for pre purchase building reports
At Sidepost, we understand that the clock is constantly ticking when you're in the process of purchasing a property. Once you've made an offer, there's usually some pressure to finalise everything quickly and get the keys to your new place. This is where our efficient pre purchase building inspections come in.
We provide pre purchase building inspection reports shortly after the property inspection has been conducted, typically within 24 hours. You'll have digital report access that allows you move forward with your property purchase with ease. 
If there are any major defects via our visual inspection i.e. structural building defects in your roof space, we'll make sure to include it in the report. This gives you added negotiating power when it comes to the final purchase price. In some cases, your vendor may even agree to lower the price or fix the problem before you move in.
Why to book a pre purchase building inspection with Sidepost?
Pre purchase property inspections are necessary, but many buyers opt to skip this step to save on time and money. Here at Sidepost, we know there's a lot of emotion and excitement involved in a property purchase. After all, it's one of the biggest financial decisions you'll make in your life.
That's why we go above and beyond to give you awesome customer service, and provide you with a quality building inspection report that exceeds Australian Standards. When you book a pre purchase building inspection with us, you can expect:
A thorough inspection – We take every precaution to ensure that all pre purchase inspections are as comprehensive as possible. Our qualified inspectors will precisely check any structural defects, roofing problems, electrical faults, framing issues, concrete cracks and more.
Digital, detailed reports – You'll have access to your pre purchase inspection report within 24 to 48 hours. This is inclusive for our inspections, whether it'd be a building and pest inspection, pest inspection as a standalone service and timber pest inspection.
We're fully licensed – All of our pre purchase building inspectors carry full professional indemnity insurance, as well as public liability insurance. We'll provide compensation for any loss or damage that might arise due to our negligence.
A professional service – Whether you book an electrical inspection, or a general building inspection, we focus on giving you the best customer service possible. Our inspectors are particularly friendly and will guide you throughout the entire process.
We service all of Australia – Our pre purchase building inspections aren't exclusive to the main cities. We provide our services Australia-wide, no matter which suburb or state you're in. Whether you're based in Melbourne, Brisbane, Perth or Sydney, we've got you covered.
It's simply worth it – What our qualified inspector discovers often can be a real eye-opener. This information can help you gain bargaining power during negotiations for your new property and potentially save a fortune.
Online booking system – Can't commit to  a set time that you've already booked? No problem. Simply reschedule or cancel your building inspection via our online booking system – no need to call us!
Cost effective – Don't pay over the odds for a pre purchase building inspection. Our service is very competitively priced, and even offers discounts if you require multiple inspections for different properties.
If there are particular property areas you use to focus on, please let us know and we'll tailor the inspection to your needs. These can include its plumbing and drainage systems or external additions like the swimming pool or garage. Contact us to know more today!
What's included in pre purchase inspection?
Plumbing defects such as leaks or holes

Structural cracks in the walls or foundation

Roofing problems such as leaks or missing tiles

Electrical faults and framing issues

Timber decay caused by rot

Sub-floor moisture and ventilation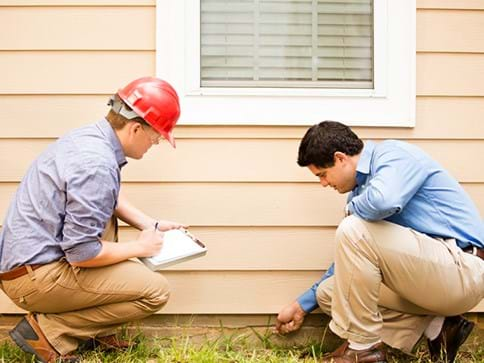 Other inspections we offer
Building and pest inspection

Termite inspection

Pest inspections conducted by our pest inspector

New home inspection

Asbestos inspection
Read what our customers have to say about our work
Affordable and reliable building inspections
"Sidepost's building inspectors delivered a thorough report that honestly blew my mind. I found out the sub-floor had significant damp issues that could've cost me thousands to fix. The guys were extremely professional and I felt they were really looking out for my best interests."
I didn't expect my building inspection cost to be this cheap!
"I got multiple quotes from different inspection companies, and Sidepost's price was by far the most reasonable. I've actually had one with another company before but they charged me double what I paid here."
Efficient and professional
"Just want to say a special thanks to Tim for conducting our building inspection. He went through the building report with us step-by-step and answered all of our questions patiently."
Sidepost literally saved me hundreds of thousands of dollars
"The property owner did a fantastic job in concealing all the major defects of the house. If it weren't for Sidepost, I would've ended up buying a dump. Thanks so much, you guys seriously rock!"
Outstanding as usual
"I've had three different properties inspected by Sidepost, and they've consistently delivered precise and accurate building inspection reports. I won't go to anyone else for my inspections from now on." - Sarah, Perth
Great building inspection reports that make a difference
"Sidepost provided a detailed report that identified a few structural defects on the outside walls. Afterwards, I brought it up with the agent and owner and they reduced the price of the property. For such a small inspection fee, I'm surprised more buyers don't use this service."
Other Housekeeping Services
Whatever home service you require, Sidepost has it covered. We've got top-rated cleaners and contractors all across Australia, ready to help you get your home into tip-top shape.
Reviews
Excellent over 120 reviews on Trustpilot