How it works
Book a carpet removal in 4 steps
Match
Type in your postcode to kick things off. You'll then connect with our carpet removal team near you
Book
Choose a date and time that suits you best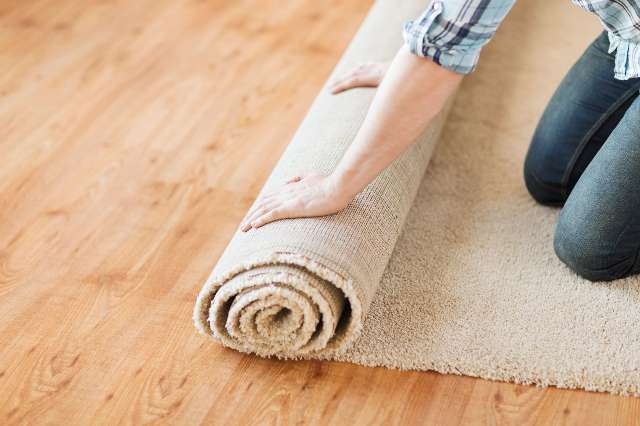 Service
One of our expert contractors will come to remove and properly dispose of your carpets
Pay
Enjoy your smooth, non-carpeted floors! You can then pay via cash, card or online
We remove carpets and prepare your dust free floor for installation
Have worn out or shoddy looking carpets that need to be torn out? Perhaps you're planning to switch things up and have new carpets installed. Either way, you'll need to get rid of the old ones first. And that's where Sidepost comes in – we're your professional and insured carpet removal team, ready to help you out.
Sidepost's licensed carpet contractors work efficiently to remove your carpets and underlay, leaving you with a smooth, non-carpeted floor that's ready for your next move. We also do so without making a mess, causing minimal disruption to your home or business. And to top it off, we'll even dispose of your carpets for you so that you don't have to lift a finger.
Carpet removal is a laborious and difficult job, so why not leave it to the experts? Book online or call us today and we'll take care of everything for you!
Why to book a carpet removal service with Sidepost – leave the hard labour to the professionals
Carpet removal companies help take the stress and strain out of carpet disposal. We have the experience, knowledge and manpower to remove your carpets in a flash – and without damaging your floors.
Let's go through the primary reasons why it's a good idea to book a carpet removal service with Sidepost:
You'll save time and energy – Carpet removal is a physically demanding job that can take hours, if not days, to complete. If you don't have the time or energy to DIY, then it's best to leave it to the professionals.
We're licensed and insured – Sidepost doesn't just send hired hands to remove your carpets and underlay. We only work with licensed and insured carpet contractors with years of experience to carry out the labour. This protects you in case anything goes wrong during the job.
We're experts at minimising disruption – We understand that having strangers in your home or business can be disruptive. That's why we work quickly to remove your carpets with minimal disruption to your day-to-day life.
Easy scheduling – Our online platform enables our clients to easily schedule, reschedule or cancel a carpet removal service at a time. If you need to make changes to your booking, simply login to your account and make the necessary changes.
You won't have to worry about disposal – Part of our removal service is proper carpet disposal, leaving you with a clean slate (and peace of mind).
You'll minimise the risk of damage – If you attempt to remove your carpets without professional help, there's a risk that you could damage your sub floor in the process.
Satisfaction guarantee – If there are still bits of carpet left after our removal service, or you're not happy with the job for any reason, just give us a call and we'll come back to fix the problem – free of charge. 
Other than carpet removal and disposal, we also offer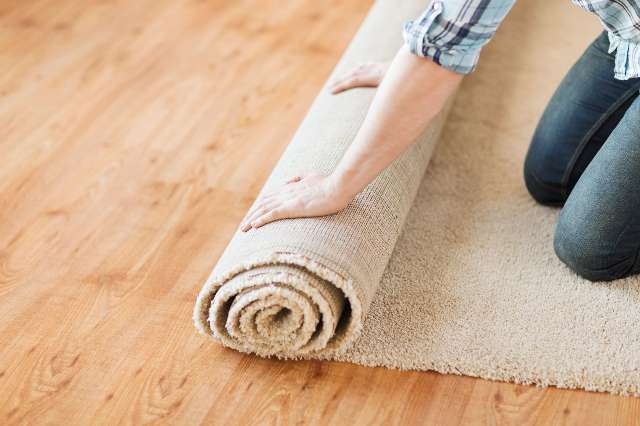 Carpet installation
Our carpet installation service is perfect for those who have just purchased new carpets or are renovating their home. Once our contractors arrive, they'll assess the area to be carpeted and give you a quote. If you're happy with the price, they'll get to work installing your new carpet, avoiding any lumps or bumps in the process.
Our carpet removal process
1
Stripping off your old carpet
If our contractors cannot pull your carpet up in one piece, they will cut a small notch out of each corner of the room. They will then pull the carpet from its tack strip and begin the cutting process.
2
Cut the carpet into strips
Once the carpet has been pulled up, our contractors will cut it into strips. They will then be able to easily roll the strips and tape them together.
3
Padding removal
Our contractors will then pull the padding underneath your carpets from its perimeter. After these are rolled, we will remove any metal objects that might be in the padding such as staples or tacks.
4
Disposal
We will then haul away all of your unwanted carpets and dispose of them in the proper manner. You will be left with a clean, empty space that is ready for new flooring!
5
Final inspection
To ensure we're on the same page, our contractors will do a final walk-through of the area to check for any missed spots. This is often overlooked by other carpet removal companies, but we believe that it's important to do a thorough job.
Read what our customers have to say about our work
They do exactly what they say
"No fancy add-ons, just a good, honest, hard-working team that did exactly what they said they would do. They tore out the old, nasty carpet in my office and left me with a clean slate to work with. A fantastic service overall."
Fantastic carpet removal company
"Sidepost's carpet removal team made quick work of my old, stained carpets. They were in and out within a few hours and left my place spotless. I would recommend them to anyone looking for a carpet removal company."
Friendly carpet removal team
"I rescheduled my appointment three times and they were still accommodating and friendly every time. When they finally came to do the job, they easily removed my old carpets. They really go above and beyond."
Affordable but not lacking in quality
"When I saw the quote that Sidepost gave me, I was a bit hesitant at first. I thought that it might be too good to be true. But they were amazing in removing my carpets and I didn't have to break the bank to do it. I would highly recommend their services."
5 out of 5
"From booking to the actual removal, everything went as smoothly as possible. They were punctual, efficient and disposed of my carpets properly. Easily 5 out of 5 carpet removal service"
Other Housekeeping Services
Whatever home service you require, Sidepost has it covered. We've got top-rated cleaners and contractors all across Australia, ready to help you get your home into tip-top shape.
Reviews
Excellent over 120 reviews on Trustpilot