How it works
4 Easy Steps To Book A Professional Pressure Washing Service in Toowoomba
Match
Type in your postcode to search for pressure washers in Toowoomba
Book
Schedule your preferred day and time. We cater on weekends and holidays with no extra cost!
Service
Once you receive the confirmation email, enjoy the clean pavements and walls courtesy of Sidepost and our trained pressure cleaners!
Pay
We process payment from your card on file, so you don't have to worry about any extra steps.
Get a Quote for your High Pressure Washing Services Now!
Our high pressure water cleaning experts have what it takes to bring your property features back to its original condition. We offer our high quality cleaning services at affordable rates, so you and your bank account don't have to worry. Message or call us now to get your free quote!
Our Toowoomba Pressure Washing Services Include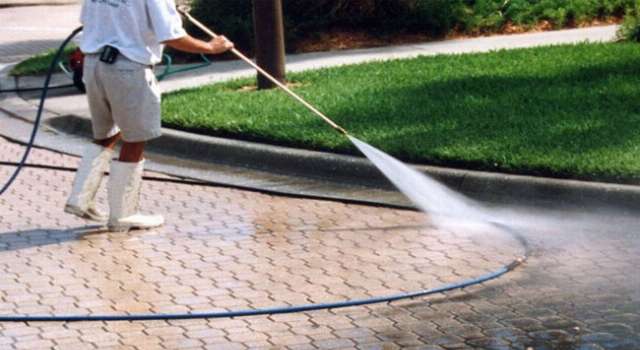 Driveways

Patios

Decks

Walls

Fences

Sidewalks

Garden paths

Garden furniture

Exterior walls
Workshop floors

Storefronts

Company driveways & paths

Fences & brickwork

Surface sealing

Parking areas

Service station floors
Latest Pressure Washing bookings from our clients
Small house
2 bedrooms and bathroom that need to be cleaned on a weekly basis. Surfaces need dusting and wiping.
Service: Regular Cleaning
Small house
3 bedrooms, 2 living areas and 2 bathrooms to be cleaned every 2 weeks. I would also like the windows cleaned on a quarterly basis.
Service: Regular Cleaning + Window Cleaning (Quarterly)
Small house
I am looking for a one-off deep clean of my 4 bedroom house in preparation for a party.
Service: One-Off Deep Cleaning
1500+
Unique properties cleaned
300+
Average job duration
All cleaning services we offer:
Every client we serve is different, so we offer a range of cleaning services to suit every need. If you can't find what you're looking for below, please don't hesitate to get in touch, and we will do our best to accommodate you.
Why Book High Pressure Water Cleaning Services in Toowoomba?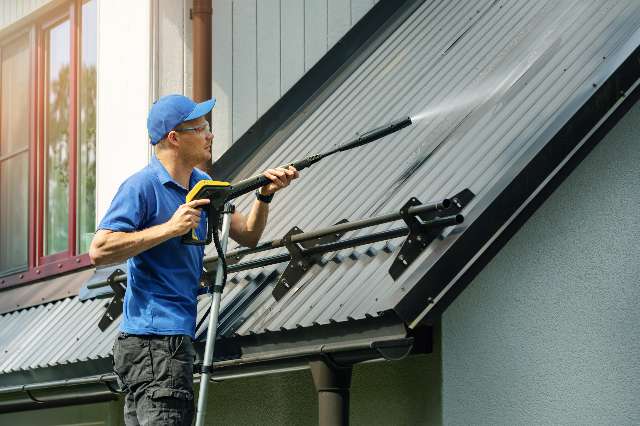 Toowoomba's architectural beauty and local heritage are truly noteworthy. Both locals and tourists can attest to this! From Toowoomba's City Hall to the Empire Theatre, there is much to admire within the city's premises. Of course, your business or house can also fit in this description too! Let's find out what it takes to keep your property in pristine condition with high pressure washing.
High pressure washing is an advanced cleaning technique to effectively remove peeling paint, grime, grease, mould, mud, and dust off surfaces. You can use them for a variety of purposes. They can clean build-up on roofs, walls, windows, floors, driveways, decks, patios, chimneys, and even pools at home. You can also use them to clean outdoor furniture and barbecue grills for your next home gathering. Your business or the business of someone you know can also greatly benefit from what high pressure washers have to offer.
Commercial buildings and establishments are constantly exposed to dirt, dust, bird droppings, and smoke. This means that their physical appearance can change in a matter of days or months. Wall paint may deteriorate, walls can develop stains and graffiti, and windows can get too dirty. High pressure washing can solve these challenges by using various techniques to deep clean a surface and make your establishment more inviting to the public. Repairs and replacements can wait when all you need are high-quality cleaning equipment and highly-trained high pressure washing professionals. 
Contact Sidepost now, and we'll let you see our best practices on-site!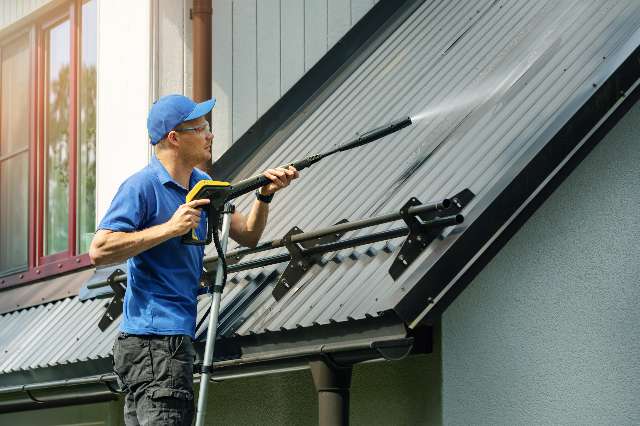 Read what our customers have to say about our work
They made easy work of my driveaway
"Sidepost's pressure washers are efficient and do the job right. They managed to blast off all the grime off my driveaway, which was neglected and stuck on for years. Super impressive!"
Super affordable
"I was so happy with the results of my pressure clean. Not only were they quick and did a great job, but their prices were very affordable. Because of their prices, I'll be using the service on a monthly basis. Thanks Sidepost!"
Punctual and really sweet staff
"Couldn't be happier with the service I received from Sidepost. They were on time, professional and did a great job! They even gave me cleaning tips so I wouldn't need a pressure cleaner in the future. Thanks Sidepost!"
High quality service
"I'm very pleased with the work Sidepost did on my deck. They brought it back to life and it looks amazing now."
Unmatched service quality
"I was so happy with the results of my pressure clean. The oil stain removal was impressive and my deck looks great now."
Sidepost Pressure Washing Toowoomba Office Details and Coverage Area
Postal Code Coverage:
4350,
4421,
4400,
4614,
4352,
4363,
4615,
4408,
4403,
4359,
4358,
4401,
4364,
4354,
4418,
4404,
4411,
4406
Areas we cover within the city:
Dalby,
Kingaroy,
Newtown,
Harristown,
Kearneys Spring,
Rangeville,
Highfields,
Middle Ridge,
Chinchilla,
Glenvale,
Centenary Heights,
Wilsonton,
East Toowoomba,
South Toowoomba
and the whole of Toowoomba area
Other locations we cover nearby Toowoomba:
Most Popular locations:
Frequently Asked Questions
Q: Do you provide commercial cleaning services?
A: Yes, we do! We understand that first impressions count, so we offer a range of commercial cleaning services to keep your office looking its best.
Q: What is the difference between high-pressure cleaning and a regular cleaning?
A: High pressure cleaning uses a high-powered stream of water to remove dirt build-up. This is a more efficient way of cleaning as it requires less time and effort. However, because of the high pressure of the water, you should only use it on certain surfaces.
Q: Is there a difference between power washing and pressure washing?
A: The primary difference between the two is the temperature of the water. Power washing uses hot water, whereas pressure washing uses cold water. Both are effective methods of cleaning.
Q: Can I hire a pressure washer and do the job myself?
A: Yes, you absolutely could. However, many people opt for a professional service as it can be time-consuming and difficult to do yourself. Our team has the expertise and experience to get the job done more efficiently. It's important to remember that not all surfaces can withstand high amounts of pressure, i.e. windows or asphalt shingles.
Q: How often should I have my property pressure washed?
A: A standard home will need a pressure clean at least once a year. In addition to enhancing your home's overall look, it can also extend its lifespan. By being proactive and regularly cleaning your property, you can prevent dirt and grime from causing long-term damage.
Q: How do I reschedule my booking?
A: You can either contact us via phone or log in to your Sidepost online account. Once logged in, you will be able to reschedule or cancel your booking easily. Our mission is to provide convenience to our clients, making it as easy as possible to make changes to your booking.
Q: What payment methods do you accept?
A: We accept all major credit cards, as well as PayPal. You can also pay via bank transfer, but this will need to be organised prior to your booking.
Q: What surfaces can you clean?
A: Our pressure washing service is suitable for various surfaces, including concrete, pavers, outdoor furniture, decks, fences, and more. If you're unsure if we can clean a particular surface, please don't hesitate to ask. We specialise in the removal of all stains from various objects.
Q: Is pressure washing a good idea?
A: It's not just a good idea - it's essential! Pressure washing is the most efficient way to clean, and it can also improve your property's longevity. If time constraints are an issue, then consider booking a regular cleaning service, so you don't have to worry about it.
Q: Why choose Sidepost?
A: Our pressure cleaners are polite, punctual, and extremely capable. We only recruit cleaners who are passionate about providing an exceptional level of service. Plus, we're a fully-insured and accredited company, so you can rest assured that you're in good hands. If you're looking for a professional, reliable, and affordable pressure washing service, look no further than Sidepost. We service all areas within Australia and offer commercial and house cleaning that's second to none. Contact us today to make a booking!
See all questions