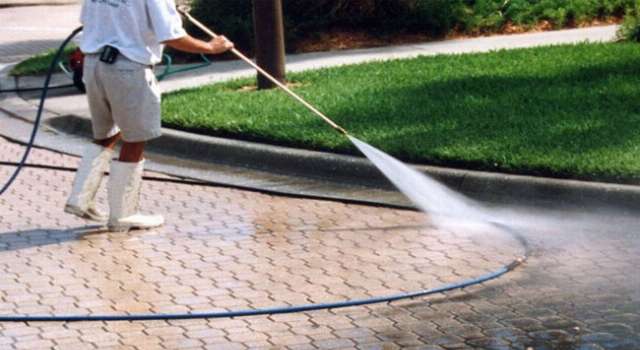 How Much Does Pressure Washing Cost (2022)?
Nothing beats the feeling of knowing your house or commercial property is clean. Seeing them all neat and tidy may improve your mental health and safety, as well as provide you with a sense of comfort and happiness. However, decluttering, dusting, and wiping surfaces may not always be sufficient to achieve the necessary cleanliness you prefer, especially in places that gather a lot of dirt, muck, grimes, and algae, such as the driveway, garage, patio, and fences. To achieve these standards, you may always do pressure cleaning or hire pressure washing services.
What Exactly is Pressure Washing?
Pressure washing, also known as power washing, is the process of removing mold, algae, dirt, dust, filth, and loose paint from different surfaces and objects using a high-pressure water spray. This aids in the prevention of dirt collection, which adds to degradation, deep stains, coating, and structural damage.
'While the phrases 'pressure washing and 'power washing' are sometimes used interchangeably, the approaches are not the same. Power washing involves a high pressure of hot water, whereas pressure washing only employs high-pressure water.
While power washing may appear to be tempting, it is not always safe to use on materials like concrete, masonry, and bricks. They should also not be used in wooden fences or on tiled floors. When power washing, make sure the surface to be cleaned can withstand high pressure and heat.
Pressure Washing Prices
The nationwide average cost of pressure cleaning, including labor, ranges from $120 to $700. Pressure washing costs from $192 to $405 in the United States. However, various factors such as the size of the area to be cleaned, the amount of filth, the types of stains, the intricacy of the surface and task, and mold can all influence pressure washing prices. The location of your home or business, its condition, your selected washing method, and the time of year are all elements to consider when calculating the overall cost of your pressure cleaning.
Prices for Pressure Washing Per Square Metre
If you hire a professional to conduct pressure washing for you, the cost might range from $3 to $5 per square metre, and depending on the project. You'll have to pay at least $100 more if you have stubborn grimes and mildew.
A variety of things might influence your quotation. However, the following are average prices you can base from:
1 – 30 square metre is $150
40 square metre is $180
50 square metre is $200
100 square metre is $325
Keep in mind that these are only average prices, and they may vary based on the type of property you have and how much of the exterior you want to be washed.
Prices for Pressure Washing by the Hour
There are businesses that charge by the hour. Given that this is a light to moderate cleaning service, their expert worker usually takes at least two hours to complete an entire 1,000-square-foot residence. This job's average pressure cleaning prices range from $50 to $150 per hour. This might still go up if you have, depending on the filth and the sort of surface that has to be washed.
Pressure Washing on a Project-by-Project Basis
There are pressure cleaning firms that charge based on the project. Here is a breakdown of how much a certain part of your house or commercial location will cost:
Driveway Pressure Cleaning Prices
Driveway pressure cleaning is the most popular pressure cleaning service since it is the section of your property that accumulates filth the fastest owing to heavy automobile and foot activity. The cost of driveway cleaning will be greater if your driveway has a lot of motor oil residue.
The normal driveway cleaning cost runs from $180 to $200, depending on the size of your driveway. The cost might rise to $350 depending on the size of the driveway and how it is cleaned.
Considering today's high cost of living, some residents in Sydney have found a clever solution by renting out their garages as a lucrative source of additional income, with some making over $779 per month from renting out their garage.
Roof Pressure Cleaning Prices
Roof washing is one of the most expensive costs on the high-pressure cleaning price list. This is due to the fact that this region is the most difficult to clean and offers the greatest risk to the cleaners. Because the roofs are frequently slanted, there is a small probability of an accident occurring. It can also get overgrown with moss and algae, making it slick when wet.
It will also require a significant amount of time and effort to lift the equipment to the roof, thus a larger charge is only sensible. Cleaning experts should also be more cautious while doing pressure cleaning on the roof since some materials should not be pressure cleaned because they may lose their protective barrier.
This project's high-pressure cleaning price starts from $2 per square metre. Other companies charge by the hour with $40 per hour being the average rate, and will vary depending on the surface, size, and procedure employed.
House Siding Pressure Washing Prices
The siding is another job with a costly high-pressure cleaning price list. Power washing most siding jobs will cost around $350 to $450, and will depend on the size of your home. Expect a greater charge if your siding is made of wood since they are more sensitive. As a result, professional cleaners utilize low-pressure cleaning to avoid destroying the siding. However, because they use low-pressure, cleaning will take longer than usual. Thus, the greater fee.
Fence Pressure Washing Prices
The length and material of your fence are two criteria that may influence the pressure cleaning prices. The cost of pressure cleaning a fence ranges from $1.50 to $5 per square metre on average. If your fence is constructed of wood, cleaning contractors may take longer to pressure clean it, which will cost you a few extra dollars.
Consider pressure cleaning as an investment in your fence, since replacing them when they are already dirty would cost you significantly more.
Gutter Pressure Washing Price List
A single house that requires pressure washing may cost between $150 to $250. Gutter pressure washing costs between $250 to $550 for bigger properties. If your house is so tall that your employees cannot reach it, you will have to pay extra since they will have to mount a ladder, exposing them to more danger.
Patio Pressure Washing Prices
The pressure cleaning prices for your patio depend on its size, material, and its ease of access. Pressure washing a patio costs roughly $150 to $200 on average. This is considering that you have mild to moderate cleaning services needs. However, if your patio is built of fragile materials, you may have to pay additional fees because the high-pressure washing method may not be suitable for it.
For reliable pressure washing services, contact our team here at Sidepost. We service Brisbane, Melbourne, Sydney, Gold Coast, Adelaide, Canberra, Hobart, Perth, and all across Australia.
Blinds installation ( 3 )
Building and Pest Inspections ( 4 )
Car Detailing & Car Wash ( 3 )
Carpet Installation ( 2 )
Dry cleaning and ironing ( 3 )
Fencing Contractors ( 5 )
Pool cleaning/servicing ( 3 )
Professional Home Services at your Door
Get it all done with Sidepost - House cleaning, fencing, painting, and more.