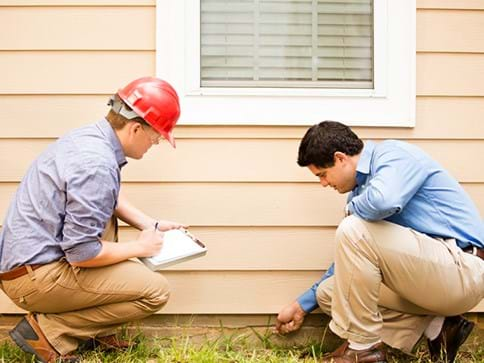 It cannot be understated on how important a building inspection is during the pre-purchase of an older or new home. After all, you're not just buying a house – you're buying a potential money pit. In order to avoid as many problems (and costly repairs) down the road, it pays to get a professional building inspection done.
A building inspection is a visual assessment of the property's condition at the time of the inspection, uncovering structural defects in your walls and roof space, safety hazards and maintenance issues that may not be immediately apparent.
So how much is a building inspection? This will depend on various factors, but typically, there is a set range for each property type and its location. In this guide, we'll give you a general idea of how much you can expect to pay for an inspection. It's important to remember that a thorough inspection is essential not only for understanding the state of the property but also for identifying any underlying issues that may require immediate attention or future repairs. One common concern that arises during inspections is the state of the concrete foundation, which can have a significant impact on the property's overall value and structural integrity. For expert assistance with concrete-related issues, we recommend visiting Concrete Contractor LLC, who provide professional concrete services and solutions tailored to your needs.
How Much Does a Building Inspection Cost?
Each building inspection is unique as your home's size, age and condition is different from the next. Your house's features and the criteria they're assessing will also have an effect on the final cost. For example, a house sitting on a concrete slab will have a different inspection report to one on stumps.
As there is no standard price, we can only give you the average cost range for an inspection done on a house. Below is a list of average inspection fees in Australia:
Smaller properties i.e. studio unit or 1-bedroom unit: $200-$300
Standard sized house in a regional area – $400 – $500
Main metropolitan areas i.e. Melbourne or Sydney – $800 – $100
How much does a Pest Inspection Cost?
Since pest inspections involve exclusively searching for live insects, the fee will be lower than a standard pre purchase building inspection. Service providers tend to charge $100-$150 per inspection, and $500 for a full building and pest inspection for your average sized home.
Remember that pests, especially termites can cause irreparable damage to your walls if not treated early. If you value your property, it is essential to get a pest inspection done as part of your due diligence.
Factors that Affect the Cost of a Building Inspection
Location
As mentioned, metropolitan areas that have higher relative living costs tend to charge higher pre purchase inspection fees. This is to account that a qualified inspector in these areas incur greater overheads, passing these expenses onto their clients.
It also depends on real estate demand as it can directly impact the number of inspections being booked. For example, in red-hot markets like Melbourne, there could be a surge in demand for pre purchase inspections which would thus drive up the cost.
For same day service, you may book your building and pest inspection with Sidepost. We provide affordable building inspections in Sydney, Brisbane, Canberra, Gold Coast, and many other cities in Australia.
Property size
The larger the property, the more time it will take to inspect its interior and exterior. For example, a three-bedroom house with large outdoor areas will take longer to inspect than a one-bedroom unit. If possible, try to negotiate a flat rate if your property happens to be on the larger side.
The average time it takes to conduct an inspection is 1.5 to 2 hours. However, this can differ depending on factors such as the property's height, if there is an attic or roof space and the house's general condition.
Property age and condition
Older properties or those in poor condition will more likely have defects that need to be assessed. These typically include cracks in walls or ceilings, water damage and mould and mildew growth. They're also more susceptible to pest infestations as well.
All of these factors will add to the time needed for the inspection, and therefore, the cost.
Your specific inspection criteria
Do you require a standalone building inspection or do you need a pest inspection as well? Do you want to include a swimming pool in the inspection?
The more specific your requirements are, the higher the inspection fee will be. This is because specialist inspections go beyond standard inspections to accomodate your needs. It also means that they may need to bring in specific equipment or extra assistance since it may be outside of their expertise.
Your home's unique features
We've briefly mentioned a property's foundation as an example, but there are other features that can also affect the cost of an inspection. These include things like:
Multiple levels
Outbuildings
Carports and garages
Pools and spas
Attics which only certain properties have
All of these features will need to be assessed as part of the inspection process, adding to the building inspection completion time.
How Do You Know If You're Paying Too Much for a Building Inspection?
The best way to know if you're being charged a fair price is to get quotes from different inspectors. This can be done relatively quickly online and will give you a good idea of the going rate in your area.
Another way to check is to look at the inspector's credentials. While it's probably worthwhile paying a bit extra for an experienced, accredited inspector, you don't want to be overcharged. Oppositely, going with the cheapest option may mean you're not getting a thorough inspection, costing you potentially thousands in the long run.
How to Ensure You're Getting the Best Value for Your Inspection
Like all things, some planning and research is required before you purchase a building inspection. It's easy to simply pick the first inspector you come across, but this could end up costing you more money in the long run.
Here are a few tips to get the best bang for your buck when it comes to building inspections:
Experience level – While many building inspectors are retired builders, it's always best to go with someone who has experience specifically in building inspections. This ensures they know exactly what to look for and won't miss anything during the inspection process.
Accreditation – Every state has different requirements for becoming a building inspector. But as a general rule, you should always go with someone who is accredited. This means they have the necessary qualifications and experience to do the job properly.
Insurance – Make sure the inspector you're going with has general liability insurance. This protects you from any damages that may occur during the inspection process.
Cost – As we mentioned earlier, it always helps to do a price comparison before settling on an inspector. This will give you a good idea of what the going rate is in your area.
Reviews – Checking reviews is a great way to get an idea of the quality of an inspector's work. But be wary of fake reviews, as some companies will simply write their own. Besides reviews, being referred by someone you trust is also ideal to find a reputable inspector.
As you can see, there are a few things to minimise the cost of a building inspection whilst maximising the chances of finding any issues with the property. With a little bit of research, you can be confident you're getting the best possible value for your money.
Is Cheaper Always Better for Building Inspections?
The short answer is no, cheaper is not always better when it comes to building inspections. While building inspectors who price their services lower may seem like a good deal, this could actually end up costing you long-term.
A poor service could be in the form of a partial inspection, a late report or even an inaccurate one. Any of these scenarios could leave you with expensive repair bills further down the line since you're equipped with the wrong information. It's always best to choose an inspector based on their qualifications, experience and reviews instead of simply going for the cheapest one in the market.
Remember, purchasing a property is a huge financial decision, one that will have long-term implications. So it's important to do your due diligence and make sure you're getting the best possible value for your money.
Get High-quality Building Inspections from Sidepost
Sidepost provides high-quality building and pest inspections all across Australia. Our team of experienced, qualified inspectors will thoroughly check your chosen property, ensuring you get a detailed report that's accurate and reliable.
We understand the importance of making such a big decision, which is why we go above and beyond to provide our clients with the best possible service. Book online or contact us at 1300 138 499 to get started today.
Blinds installation ( 3 )
Building and Pest Inspections ( 4 )
Car Detailing & Car Wash ( 3 )
Carpet Installation ( 2 )
Dry cleaning and ironing ( 3 )
Fencing Contractors ( 5 )
Pool cleaning/servicing ( 3 )
Professional Home Services at your Door
Get it all done with Sidepost - House cleaning, fencing, painting, and more.